Slate Roof Shingles
Types of Slate Roofs Miami
At Rausa Roofing Miami, we understand that the function of slate shingles Miami is to provide shelter, shed rain and snow, and resist wind and other loads. This is achieved with simple and adaptable methods of installation that have proved successful for centuries around the world. In many cases, local requirements, or necessity, lead to the development of slating styles that suit or benefit from the regional supply of material. In other cases, it is the genius of the design professional, roofing contractor Miami, or building owner that deserves the credit for creating a spectacular roofscape.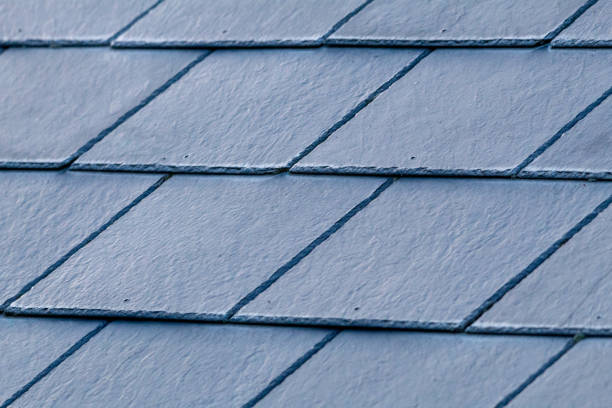 Standard (Uniform) Slate Shingles Miami
Standard slate roof systems are comprised of 1/4″ – 3/8″ slate of one standard length and width and with square cut butts. Standard roofs are laid in uniformly spaced horizontal courses with alternating vertical joints carefully aligned.
Patterned Slate Roofs Miami
By introducing slates of different colors or shapes in a specific design or in courses, individual accents or banding can be created as part of the design characteristic of a slate roof. For layout reasons, these patterns are most frequently incorporated into standard slate roofs. Accents may include, floral and geometric patterns, dates, words, or names. Pattern catalogs were available from some quarries and slate distributors in the past.
Random Width Slate Roofs
Random width slate roofs share the attributes of a standard slate installation, but employ slates of one length and thickness in a variety of widths. These slates are laid in courses to provide adequate joint offset, while not maintaining joint alignment.
Multicolored (Blended) Slate Roofs
Where a variety of colors is available, it is common practice to blend mixtures of various colors together to create a multicolored slate roof. Although possible for a uniform size slate roof, multicolored slate roofs are most commonly achieved using a random width installation. As few as two colors can be used and commonly up to 4; however any number is possible. Where unfading slate colors are part of the blend, it can be effective to use some complementary semi-weathering colors to ease the transition between colors.
Graduated Length Slate Roofs
The practice of installing slates of varying lengths and widths on a roof came from the days when some quarries produced slate on an "as available" basis rather than in specified lengths and widths. This led to the roofing contractor sorting the slate on site and installing the longest and widest slates at the eaves (where they carried the most water) and "graduating" several other lengths into the roof in courses so that the shortest and narrowest slates were at the top of the roof, where they carried the least water. The normal exposure of each length was maintained, decreasing from the eave to the top of the roof. A well laid-out graduated slate roof should show no discernible break between the various lengths of slates used as they move up the roof.
Graduated Length / Graduated Thickness Slate Roofs
Slate of three, four, or more successive thicknesses are commonly incorporated into graduated length roofs with the largest and thickest slates at the eaves. The slates are then laid with diminishing lengths and thicknesses until the smallest and thinnest slate are at the top. Slates at the eave could be 1 inch thick, or more, and the 3/16 inch thick at the top of the slope.
Textural Slate Roofs
The uses of slates of rougher surface textures and thicknesses, mixed throughout a roof, creates a textural slate roof. The method of installation leaves slates of varying thicknesses lying adjacent to each other, creating a rougher hewn appearance. As the slates are rougher and thicker, it is common for textural slate butt corners to be randomly missing to acceptable dimensions.
Hang-down (Staggered Butt) Slate Roofs
Another architectural variation of a basic slate roof installation is the random use of longer slate, with their heads laid to the same course line or higher, and their additional length projecting past the butt line of other slates. This creates a hang down appearance.
The Versatile Role of Slate Shingles in Roofing
As an age-old, esteemed roofing material, slate serves multiple purposes. It provides shelter, efficiently sheds rain and snow, effectively resists wind, and carries loads, all while enhancing the visual appeal of a structure. Its ability to adapt to various installation methods that have proven successful over centuries has made it a popular choice for homeowners and roofing contractors. The use of slate shingles often varies depending on the regional availability of the material, local needs, or specific preferences of the design professionals, roofing contractors, and building owners. Consequently, the resultant roofscape can be nothing short of spectacular.
Looking For A Roofing Contractor In Miami?
As a reliable Miami Roofer, Rausa Roofing Miami offers a wide range of roofing services, including roof repair, roof replacement, roof maintenance, roof inspection, and roof financing. Slate shingles are not the only roofing option available, and we also specialize in tile roofs, EPDM roofing, TPO roofing, and flat roofing.
Reach Out to Rausa Roofing Miami Today
We invite you to learn more about our slate shingles and other roofing services that can help materialize your roofing vision. Don't hesitate to call us and speak with one of our experts. At Rausa Roofing Miami, we value your trust and promise to deliver solutions tailored to your needs. Let's begin your journey towards a robust, beautiful, and long-lasting roof today!
Contact Rausa Roofing Miami today to learn more about our slate shingles and how we can help bring your roofing vision to life. Call us now and speak with one of our experts.