Metal Roofing is a Popular Choice
Our team has over a decade of experience in the metal roofing industry and we look forward to putting our experience to work for you. Our team knows how important a roof is for your home and we want to make certain that you have a roof that will be reliable and safe. Our team looks forward to helping you with all of your metal roofing Miami needs. 
Metal roofs come in many colors. We offer many different colors to choose from so that you can have a personalized look for your home or commercial property. You may want to go with a white color that will be super energy efficient, or you could go with a bright green look. A red color can help your home or business to stand out, or you might prefer to go with a black roof color to help it blend in. There are a ton of different options, and we can make sure that your roof is installed properly after you decide what color is going to be best for your needs. We offer first-rate installations for homes that are being built, or we can replace your existing roof. We also offer premium metal roof repair services.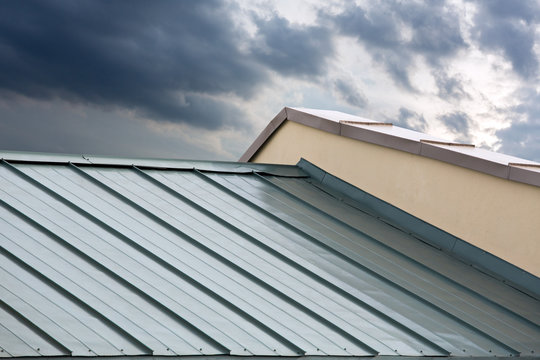 Reasons to Consider a Metal Roof for Your Home or Business
One of the main reasons people consider a metal roof installation is because it will last up to 50 years or longer. It is a durable choice that will last. Metal roof installation will also raise your property value. If you ever decide to sell your home, the type of roof it has can be a great selling point. Metal roofs are energy-efficient options as well. Solar heat is reflected off of metal roofs instead of being absorbed, so your energy bills can be reduced in most cases. This type of roof is also eco-friendly. It is recyclable, and a great choice for just about anyone. 
Metal roofs are also very tough. They can stand up to extreme temperature fluctuations, heavy winds, and are even fire-resistant. Since metal is such a lightweight material, you will not have to worry about it putting a strain on the structural integrity of your property. Installation of this type of roof can also be done fast by professionals. When you are looking for a great roof investment, metal is a material to strongly consider. 
An Eco-Friendly Roofing Choice
Choosing metal roofing for your home is not just a smart decision for your wallet; it's also a fantastic way to contribute to a healthier planet. In this era of increased environmental consciousness, every choice matters, and your roofing choice can have a significant impact. Metal roofs stand out for their eco-friendly attributes, and here's why:
First, they are predominantly made from recycled materials, which means you're directly participating in the recycling loop and reducing the demand for new, raw materials. More than that, at the end of their long life, these roofs don't end up in a landfill. Instead, they can be fully recycled into new roofing or other products, a stark contrast to many other roofing materials which often contribute to mounting waste issues.
What's more, these roofs aren't just environmentally friendly because of their recyclable nature. They offer excellent energy efficiency, reflecting sunlight instead of absorbing it, which can reduce your cooling costs significantly, especially during Miami's sizzling summers. This reduction in energy use means fewer greenhouse gases are emitted, helping to reduce your home's carbon footprint. With metal roofing, you're not just protecting your home—you're also protecting the environment.
Enhance Your Home's Aesthetics with Metal Roofing
The days of settling for one-size-fits-all roofing solutions are long gone. With metal roofing, you have the power to customize your roof to match your home's architecture and your personal style. Far from the industrial, one-note look that some people may expect, metal roofing offers a wide range of options that can enhance your home's curb appeal and value.
Metal roofs come in an array of styles, from the sleek, modern lines of standing seam roofs to the traditional charm of metal shingles that mimic the look of wood or slate. You're not limited to a single color either. These roofs are available in a spectrum of colors, from natural metallic finishes to vibrant hues that can match or contrast with your home's exterior.
Moreover, special finishes can add a level of texture and visual interest that elevates your roof from a necessary feature to a design statement. Picture a copper-toned roof that patinas over time, creating a unique, aged look that adds character and distinctiveness to your property. With metal roofing, you're investing in a roofing solution that doesn't just protect your home; it also enhances its visual appeal, making it a joy to come home to every single day.
Miami Metal Roof Repair and More
We enjoy going above and beyond to help our clients have a roof that will offer protection and beauty to their home or business. Our company has been in business for a long time, so we know what type of damage even a small leak in your roof can cause. Our goal is to resolve your problems quickly so that you have minimal water damage. If we can prevent problems like mold and mildew, we will do so by acting fast. It is important to contact us at the first sign of a problem so that we can put our expertise to work for you. We have earned a great reputation in Florida for offering excellent customer service and fast results for roof repair Miami. You can have peace of mind about hiring us for your commercial or residential needs. 
Contact Us for All of Your Metal Roof Miami Needs
Rausa Roofing Miami offers fast, reliable, and warrantied services. Our company has a history of offering exceptional service to each and every one of our clients. We will be happy to take care of metal roof replacement Miami or repair services. Our team is very knowledgeable, and we will be glad to answer any questions that you have about a metal roofing option. We know how strong and good this material is, and we always offer only the best metal possible for your roofing needs. 
Our company stands behind its work, and we will do what it takes to make certain that your property looks its best. Our roofing upgrades can transform the look of your property while also safeguarding your property from being damaged.  Metals roofs will be durable, energy-efficient, and a low maintenance option. When you invest in metal, you will see savings down the road. Our team is here to help you. We have well-trained professional roofers on staff and independent insurance adjusters as well. Contact us today to learn more or to schedule an appointment today.